Bradley fired as US national team coach
Posted on July 29, 2011 by SoccerPunter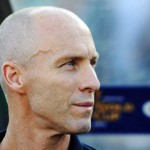 Bob Bradley was fired as coach of the
United States
national football squad on Thursday, barely a year after guiding the Americans into the round of 16 at the
2010 World Cup
in
South Africa
.
US Soccer Federation president Sunil Gulati announced the removal of Bradley in a statement after a meeting between the two and US Soccer chief executive officer Dan Flynn at Los Angeles.
It comes just two days before the draw for the 2014 World Cup takes place in Rio.
Bradley took charge in January of 2007, first on an interim basis and then as the permanent replacement for Bruce Arena, who was dropped after the Americans failed to advance beyond the group stage at the 2006 World Cup.
Bradley went 43-25 with 12 drawn in his four and a half years guiding the US team, including an upset of Spain and a runner-up finish at the 2009 FIFA Confederations Cup and a 2007 CONCACAF Gold Cup crown.
Bradley was given a contract extension through the 2014 World Cup after guiding the Americans to the round of 16 at last year's World Cup, where they were eliminated by Ghana.
But the Americans lost to Mexico in last month's Gold Cup final, as they did in the 2009 Gold Cup championship match. The host US line-up squandered a 2-0 lead, lost 4-2 and the Bradley era was declared over a month later.
"We want to thank Bob Bradley for his service and dedication to US Soccer during the past five years," Gulati said.
"During his time as the head coach of our men's national team, he led the team to a number of accomplishments.
"But we felt now was the right time for us to make a change. It is always hard to make these decisions, especially when it involves someone we respect as much as Bob. We wish him the best in his future endeavours."
A statement by US Soccer said a further announcement would be made on Friday, possibly the naming of a replacement.
There has been debate within the US football community about whether or not the national team might be better with a higher-profile coach from beyond US borders even after Arena led the team to the final eight at the 2002 World Cup.
The Americans, who fell six places to 30th in the FIFA rankings released on Thursday, are scheduled to face Mexico again in a friendly on August 10 in Philadelphia.
They are also set to host another North American regional rival, Costa Rica, on September 2 and travel to face Belgium four days later in Brussels.