Beckham returns to USA to focus on new season of MLS
Posted on February 25, 2011 by SoccerPunter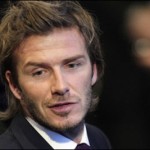 David Beckham finally reported to the Los Angeles Galaxy's training camp on Thursday to begin what is expected to be his final season in Major League Soccer.
Beckham, whose contract expires in November, spent the past six weeks training with English side Tottenham but says he is now shifting his focus to helping the Galaxy get off to a good start this season.
"I could have been sitting on a beach somewhere, which obviously was an option," said Beckham on Thursday.
"I am happy to be back and I am happy to see some sun.
"I only missed a few weeks with the lads here but it was important for my fitness that I continue with my (training) level there and come back fitter than I was last season."
Due to injuries and commitments overseas, Beckham played just seven games with the southern California team last season.
On Thursday, both he and Galaxy coach Bruce Arena downplayed reports that Beckham had been trying to work out a loan agreement with Tottenham.
"It is like I have been saying all along, David will be back and play for the Galaxy," Arena said. "We never thought he wasn't going to be back."
Beckham said he went to Tottenham to get a head-start on training for the MLS season and to compete with players at Premier League level.
Beckham, who turns 36 in May, reports to Los Angeles less than three weeks before the season starts.
The midfielder, who took a tumble during one shooting drill on Thursday but quickly jumped back to his feet, said he felt good on the pitch and that there were no effects of jet-lag from the long flight.
"Since the fourth of January I have been training at a high level," Beckham said. "At my age and at this stage in my career, I can't afford to take three months' holiday.
"So I took the opportunity to go to Spurs and train down there.
"It was more important for me to train rather than just sit on a beach."
Only about a dozen journalists and TV cameras turned up to the Galaxy practice on the Cal State University Dominguez Hills field.
It was quite a contrast to July 2007, when hundreds of media representatives jammed into the Home Depot Centre for Beckham's first press conference.
The Galaxy did not say if Beckham would be fined for arriving at the training camp late but for new team-mate Juan Pablo Angel, it didn't matter.
"It is great to have him here. Just his presence," Angel said. "He is ready to go and we are delighted to have him back."
Galaxy team-mate Landon Donovan, who has been critical of Beckham in the past, conceded that it was not an ideal situation but stopped short of criticising the former Manchester United and Real Madrid icon.
"We would have liked to have him since January 24 but that is the way it is," said Donovan.
"All we care about when he is here is that he wants to win."
Whether he has been on loan or out with an injury, during the past four years the Galaxy have gotten use to being without Beckham for long stretches.
"It was frustrating to Harry (Spurs coach Harry Redknapp) because he said he would have liked to sign me for a time," Beckham said.
"But even if I had of played the games (for Spurs), this is the time I was always going to come back. That was agreed and nothing was going to change that."
The Galaxy open the MLS season on March 15 against the Seattle Sounders.
Beckham said there is no extra pressure on him because he is in the final year of his deal with the Galaxy.
"It doesn't matter if it is the last year of my contract. Every year it is important for me to win something," Beckham said.
"It is not about validating my time here with the Galaxy. It is not all about myself being a success. Of course I want to win trophies and championships but the most important thing is the club."
Beckham also discussed the April 29 royal wedding in Great Britain and the anticipated birth of his fourth child in the summer.
Beckham and his wife, Victoria, have been invited to the wedding of Prince William and Kate Middleton at London's Westminster Abbey.
With the new baby on the way and his commitments to the Galaxy, Beckham said it is too early to say whether they will be able to attend Prince Williams' wedding.
"I am a big, big royal family fan. I always have been. I was brought up by my grandparents and parents to love the royal family so it is huge thing for our country.
"We will have to wait and see. I will concentrate on playing and training here. That is all I am thinking about."
The Beckhams have been married 11 years and live in Beverly Hills. They have three sons — Brooklyn, 11, Romeo, 8, and Cruz, 5 — and announced last month they are expecting another child.
"We are over the moon about it," said Beckham.
"My wife is five months pregnant. She is very healthy and looking after herself and we have three boys who are very happy. So it is a big year."
Beckham said they are keeping the sex of the baby a secret for now.
"We know what it is but it is going to remain private for a while. When we are ready to say, we will let you know."