Beckham ready to play for a European club
Posted on December 21, 2010 by SoccerPunter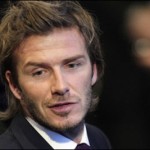 Former England captain David Beckham has revealed that he wants to play for a European club this winter in an effort to win back his place in the national side.
Beckham has spent the last two winters on loan from Los Angeles Galaxy at AC Milan but accepts that move will not happen again – and he has ruled out all Premier League clubs apart from Manchester United.
The 35-year-old, who received the BBC sports personality's lifetime achievement award on Sunday night, said: "I won't be going back to AC Milan this time because is not possible to go onto the roster for such a short length of time.
"But I will be going back somewhere as I want to keep myself fit and keep myself in with a chance of getting called up for England again. To do that, I have to be somewhere so fingers crossed I can sort something out."
Beckham, whose Major League Soccer season with the Galaxy does not begin again until March, has trained with Arsenal in the past to regain his fitness but he will resist offers to play for any other Premier League club apart from United.
He added: "I have always missed playing in the Premier League since I left it almost eight years ago.
"It is a great league and one of the most competitive in the world. Maybe one day I will come back here but I have always said that it will only be for Manchester United. I am not holding my breath on that one, but we will have to wait and see.
"But definitely not Preston (where he played on loan as a teenager) – it's too cold up there!"
Beckham has not played for England since suffering a torn Achilles tendon in March that kept him out of the World Cup, but he made a successful return for the Galaxy.
"My body feels great after my injury," Beckham said. "I always said I needed to get that back into order and keep my fitness and we will see."
Beckham was teary-eyed after receiving a standing ovation at the BBC awards and admitted to being dumbfounded at the depth of feeling towards him.
"That was one of the best reactions I have had from an audience and I have to thank them because it was incredible," he said.
"I had to try to hold back the tears because I could see my wife getting emotional and my mum bawling as usual. My children sat there, too, and it tipped me over the edge.
"One of the things I said I was going to say and then forgot was that receiving a lifetime achievement award is something you normally get at the end of a career.
"I still feel that I am starting a new chapter, to be honest. I still feel that I am playing well and playing on and can still do it. I have not finished yet.
"I wake up every day and want to achieve something. I have to be a good role model for my children and other children out there.
"I love the game and am not done with playing the game yet. I might be 35 years old but I still feel that I can play at the top level for another couple of years. Hopefully, I can do that."