Bayern Munich thrash Freiburg in German Bundesliga
Posted on September 11, 2011 by SoccerPunter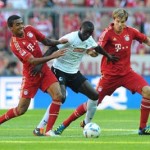 Bayern Munich
warmed up for next week's trip to Villarreal in the
Champions League
with a 7-0 win over
Freiburg
on Saturday in the
German Bundesliga
as striker Mario Gomez and midfielder Franck Ribery shone.
Germany striker Gomez scored four goals — including a second-half hat-trick — to leave last season's top scorer in the Bundesliga with eight league goals already to his name after just five games.
Not to be out-done, Ribery netted twice in the first-half as part of an eye-catching display when the French winger showed great footwork, especially for his first goal when he left two defenders standing.
Bayern replacement Nils Petersen profited from Munich's midfield enjoying complete control when he scored the seventh just before the final whistle.
Munich are at Villerreal on Wednesday in Group A of the Champions League and are in impressive form.
The rout leaves Bayern top of the league and with just over a month gone of the new season, they already have a goal difference of 15 and regardless of results they will finish the weekend in first place in the Bundesliga.
Defending champions Borussia Dortmund suffered a shock 2-1 defeat at home to Hertha Berlin as they prepare for Tuesday's visit of Premier League side Arsenal in Europe's top competition.
After the hosts dominated the opening half, Berlin's Brazilian striker Raffael enjoyed considerable luck for the opening goal.
Germany defender Marcel Schmelzer tried to clear the danger, but in the scramble with goalkeeper Roman Weidenfeller, the ball fell to Raffael, who fired into an empty net on 49 minutes.
Berlin doubled the lead when midfielder Peter Niemeyer netted a second on 82 minutes and although Dortmund's Poland striker Robert Lewandowski scored a consolation goal on 88 minutes, it was too little, too late.
This was Dortmund's second defeat in four league games and leaves Jurgen Klopp's side 10th in the table and puts Berlin seventh.
Borussia Moenchengladbach, who only avoided relegation last season by the skin of their teeth, kept up their great start to the season with a 1-0 win at home to Kaiserlautern to go second in the table.
Stuttgart enjoyed a comfortable 3-0 win at home to Hanover, while Hoffenheim moved up to fourth in the table after they hammered Mainz 4-0.
On Friday night, Bayer Leverkusen warmed up for Tuesday's trip to Chelsea in the Champions League with a 4-1 win over Augsburg on Friday which puts them third in the table.
On Saturday night, Werder Bremen host Hamburg in the north German derby, while on Sunday, Cologne are at Nuremberg and Schalke 04 are at 2009 champions Wolfsburg where they will face former Royal Blues coach Felix Magath.