Bayern Munich Refuse To Sell Thomas Muller
Posted on July 21, 2015 by Sreya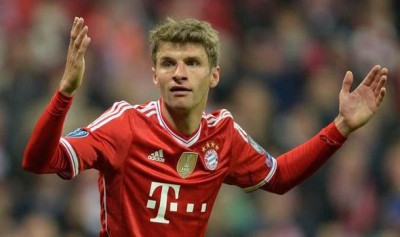 Manchester United are still hopeful that they will be able to secure Thomas Muller's signature from Bayern Munich. Both clubs have already done business this summer with Bastian Schweinsteiger moving to the English Premier League club.
Thomas Muller, a product of the Bayern's youth system, became a first-team regular for the Bavarian club in 2009 under the then Bayern manager Louis van Gaal. In recent times, Muller has fallen out of favour with Pep Guardiola, who had dropped him to substitute's bench last season, and with whom Muller had a dispute regarding his role in the team.
Manchester United were interested in Muller's services last summer as well, but the 2014 FIFA World Cup winner was reluctant to move. However, times have changed and the German press believes Thomas Muller would be relieved to find a new home in Manchester. A fan favourite in Munich, the Bayern hierarchy are opposed to selling the 25-year-old, but a bid of around £55m could sway the Bundesliga champions, considering the fact that Pep Guardiola considers him dispensable.
Thomas Muller, if he chooses to move to Manchester United, could see his wages double to around £260,000 per week, a lucrative offer at the peak of his career. An attacking all-rounder, Muller can play a wide variety of forward positions – as a lone striker, as a supporting striker, on either wings or as a central attacking midfielder. Muller's versatility, in addition to his creativity and goal-scoring prowess could prove invaluable to Louis van Gaal's side, who has already added some steel in form of Bastian Schweinsteiger and Morgan Schneiderlin.
Muller's tactical awareness and technique makes his style of play extremely suited for the Premier League. He also has pace and immaculate vision which makes it difficult for opposition defenders to stop his forays into open space.
The German signed a new contract with Bayern Munich last year, but a timely bid could see him change shirts. Bayern Munich fanbase, though, would be worried should such a transfer take place, for Bayern Munich's attacking riches could further take a hit, especially with the imminent departure of Mario Goetze. If Thomas Muller is sold, Bayern Munich would have to rely on the injury-prone Franck Ribery, relatively untested Douglas Costa along side Arjen Robbena and Robert Lewandowski as their creative outlets.
With British media speculating that Manchester United may table a bid for Muller this week, the next few days should offer more clarity as far as the Thomas Muller's transfer saga is concerned.