Barcelona tear apart Villarreal defense with five goals
Posted on August 30, 2011 by SoccerPunter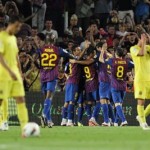 Champions
Barcelona
produced the perfect response to bitter rivals
Real Madrid
here on Monday as they overwhelmed
Champions League qualifiers
Villarreal 5-0 in their opening league match of the
spanish la liga
season.
A double by Lionel Messi plus goals on their league debuts for summer acquisitions Cesc Fabregas and Alexis Sanchez after an opener from Thiago came just a day after Real had thrashed Real Zaragoza 6-0.
Barcelona's win, though, is an ominous sign for Real Madrid as Villarreal are considered a far stronger side than Zaragoza.
The Catalan side are in the hunt for their fourth consecutive league triumph and having started the season by lifting the domestic and European Super Cups they showed no mercy against a Villarreal side who spent the match chasing shadows.
On paper, Barcelona appeared to have problems with Carlos Puyol, Gerard Pique and Dani Alves all missing from the defence but coach Pep Guardiola reverted to a 3-4-3 formation made famous by his mentor Johan Cruyff as Barcelona handler in the early 1990s.
Guardiola, though, was delighted with the manner in which his side had kept a strong opposition forward line at bay.
"We only had one real defender and the idea was that we would play the ball around with a lot of players in the centre of the pitch," he said.
"Following the Super Cups, this was a tough game to start the season and we are very happy.
"If we had all the players available then maybe I wouldn't have changed the system."
Guardiola praised Fabregas's performance, which again confirmed the early impression that he has fitted in superbly already following the completion of his protracted move from Arsenal.
"You always hope that a new signing adapts and Cesc has an advantage as he is from here and knows the players," said Guardiola.
"He also has another advantage and that is that although he is only 23 he was captain of a good team in England and he has a lot of character."
Thiago and Fabregas, both starting the game in the centre of the pitch, made it 2-0 by half-time, while a strike from Villarreal's Italian striker Giuseppe Rossi that went narrowly wide was all the visitors could muster.
Sanchez opened his account for Barca with a goal after the break before a Messi double completed the scoring.