Barcelona clinch La Liga title after a draw with Levante
Posted on May 12, 2011 by SoccerPunter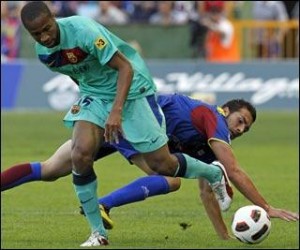 Real Madrid turned to 'Galatico' coach Jose Mourinho in an attempt to end Barcelona's stranglehold on the Spanish league, but it was in vain as Pep Guardiola outwitted his Portuguese rival to mastermind a third successive league title.
Lionel Messi recovered from a disappointing World Cup with Argentina to score 31 league goals as Barcelona led from the front and wrapped up their 21st domestic title.
Barcelona become the first side to win three consecutive league titles since 1993 when Johan Cruyff's Barcelona team won the third of four back-to-back league crowns.
Mourinho had arrived talking of becoming the first coach to win a 'Grand Slam' of English, Italian and Spanish league titles, but could not break Barcelona's supremacy, stomaching a 5-0 drubbing in his first 'El Clasico' and tasting defeat to Barcelona in the semi-finals of the Champions League.
Barcelona recruited Spain World Cup winner David Villa from Valencia for 40 million euros, while Mourinho signed Argentine winger Angel di Maria from Benfica for 25 million euros along with German stars Mesut Ozil and Sami Khedira for a combined 30 million euros.
The hype around Mourinho was enormous but his first match in charge didn't go to plan with his league debut ending in a disappointing 0-0 draw at Real Mallorca.
Real then clicked into gear and Mourinho's unbeaten start of 10 wins and two draws made him the most successful managerial debutant in La Liga.
Barcelona began with a 3-0 victory at Racing Santander, but were then surprisingly beaten 2-0 by promoted Hercules at Nou Camp in their first league home match of the campaign.
The champions bounced back with nine wins and a draw from their next ten games and trailed leaders Real by one point going into the first 'El Clasico' at Nou Camp on November 29.
Real had beaten Atheltic Bilbao 5-1, with Cristiano Ronaldo scoring a hat-trick, to warm up for the clash, but Barcelona turned on the style in front of their home fans as Mourinho's first Clasico ended in a 5-0 humiliation in what was the heaviest defeat of his career.
Villa scored twice with Xavi, Pedro Rodriguez and Jeffren also on target and Madrid had Sergio Ramos sent off late on for a terrible tackle on Messi.
It was a fifth consecutive Clasico win for Barca and the romp took them two points clear at the summit.
Madrid and Mourinho were stunned by the manner of the defeat as they lost top spot and they failed to see it again all season as Barcelona dominated from the top.
Real slipped up early in 2011 with a 1-1 draw at Almeria and Barcelona triumphed 4-1 over Malaga for a 13th successive league win to go four points clear at the top.
At the halfway stage of the league Barcelona had beaten their record points tally with 52 points from 19 games, while Madrid had an impressive 48.
Third-placed Villarreal were already nine points behind second-placed Real as the Spanish league was again to be a two-horse race.
Chasing Real slipped up again in late January as their poor away form, which was to undermine their title bid, resurfaced again with a 1-0 loss to Osasuna in Pamplona.
Real had a flawless record at home but on the road they were struggling for goals and wins dropping two more points in a 0-0 draw at Deportivo La Coruna as Barca re-opened their seven point cushion.
Mourinho was complaining about refereeing decisions and an unfair match calendar as Madrid struggled to keep pace and on April 2 the Portuguese coach saw his nine year unbeaten home record come to an end with a 1-0 home loss to strugglers Sporting Gijon.
Mourinho had gone 150 league games unbeaten, in a run stretching back to February 2002, with Porto, Chelsea, Inter and Real before Sporting caused the upset of the season.
Barcelona could barely believe it and recorded a vital 1-0 win at Villarreal to move eight points clear in a giant step towards the title.
Real went into the second Clasico at the Bernabeu, the first of four meetings in 18 days as the two sides met in the Champions League semi-finals and Kings Cup final, knowing only a win was good enough.
The defensive-minded hosts had Raul Albiol sent off early in the second half for conceding a penalty, which Messi converted, before a late penalty equaliser from Ronaldo salvaged a 1-1 draw.
It ended Pep Guardiola's perfect record following five Clasico wins, but shattered Real's title bid with Barcelona eight points clear and Madrid appeared to wave the white flag in a 3-2 home loss to Real Zaragoza two games later.
Barcelona surprisingly lost 2-1 to promoted Real Sociedad the same weekend, ending their incredible 32-game unbeaten league run, but needed just four points from the remaining four games to be crowned champions.
And they finished off Mourinho and Real's hopes albeit in fairly tame fashion with the 1-1 draw away at Levante – but thereagain they unlike their bitter rivals have the Champions League final to think about.