Arsenal thrash Malaysia in friendly match
Posted on July 14, 2011 by SoccerPunter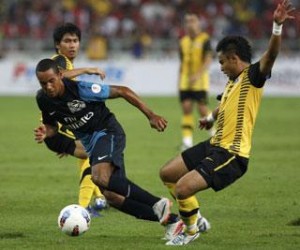 Arsenal started their pre-season Asian tour with a resounding 4-0 victory over a spirited Malaysia side at the Bukit Jalil National Stadium on Wednesday.
The Gunners, who last played in Malaysia 12 years ago, dominated from start to finish, with team boss Arsene Wenger starting out with a young side before some of his best-known stars came on in the second half.
Left-back Kieran Gibbs was keen to make an impression on Wenger following the sale of Gael Glichy, but the form of reserve right-back Carl Jenkinson will have left the Frenchman shaking his head.
The youngster was time and again left for dead by speedy Malaysian winger S. Kunalan, who carved out numerous opportunities, although the Gunners' defence stood firm.
Arsenal teenagers Jack Wilshere and Aaron Ramsey dominated the centre of the park.
Wilshere caused panic in the Malaysian defence after just five minutes and was poised to shoot before Mahalli Jasuli brought him down, leaving the referee no choice but to point to the spot.
Ramsey converted the penalty, coolly sending the keeper the wrong way.
Malaysia's best chance came when skipper Safiq Rahim's free-kick from more than 35 yards out was tipped over for a corner by Wojciech Szczesny.
With Wilshere and Ramsey dictating the pace, Arsenal went further ahead in the 37th minute when the latter's through ball released Theo Walcott down the right.
The England international kept his head to lob an onrushing Mohamad Yussoff to make it 2-0.
Arsenal made seven changes at half-time with the more experienced Tomas Rosicky, Carlos Vela, Denilson and goalkeeper Vito Mannone all coming on.
It took the re-jigged Gunners a while settle and Kunalan nearly pulled a goal back when he once again ran past Jenkinson, but shot straight at Mannone.
A couple of minutes later, Mannone held on to the ball for too long and Malaysia were awarded a free-kick just inside the box, but Safiq's attempt hit the wall.
Arsenal slowly edged back into the game and came close on several occasions before Mexican hotshot Vela chipped Malaysia's substitute keeper Khairul Fahmie Che Mat in the 58th minute.
The changes everyone in the stadium wanted came in the 67th minute when Arsenal brought on Samir Nasri, who is being chased by Manchester United and Manchester City, Robin Van Persie, Andrey Arsharvin and Barcary Sagna.
Rosicky made it 4-0 in the 90th minute, nodding home from close range.
Wenger, who still hopes to hold on to Nasri, said he was delighted to see him turn on the style and help the Gunners to a convincing victory.
"Samir (Nasri) has always been committed to the team and we saw that today," Wenger said.
"He did very well coming off the bench. I'm willing to keep him for another year, even if it means we risk losing him for nothing in a year's time."
"I think the board agrees with me as it is a technical decision," he said.
"Our goal is to win the English Premier League and we need good players to do that."
Asked about captain Cesc Fabregas, who is wanted by Barcelona, the French boss responded: "I don't want to comment on what some Barcelona players are saying, about how Fabgregas wants to leave, but all I can say is, we want to keep him."
Malaysian manager, K. Ragagobal, said: "The early penalty killed off the match. They were simply too good, but we didn't play our usual game."
Arsenal will play their next match in China on Saturday.
Malaysia play Liverpool on Saturday before taking on Singapore in a World Cup asia qualifier in two weeks' time.