Arsenal Climb Premier League Summit
Posted on December 29, 2015 by Sreya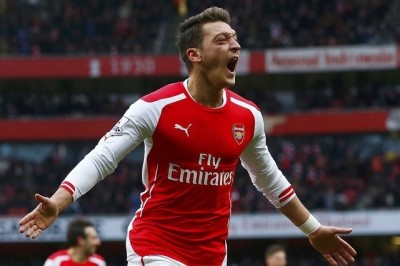 Arsenal climbed to the top of the English Premier League standings with a 2-0 win over AFC Bournemouth on Monday as they moved to thirty nine points, one ahead of Leicester City. With the Foxes playing Manchester City later tonight in a difficult fixture, Arsenal might well go into the new year sitting atop the Premier League summit.
Arsene Wenger had asserted the need to respond positively to the 4-0 drubbing at the hands of Southampton this past Saturday. Mesut Ozil showcased yet another brilliant performance, registering a first-half assist and a second-half goal to cap off an excellent first half of the 2015/16 season.
AFC Bournemouth started well, but lacked the cutting edge needed to strike Arsenal. Gabriel got on the end of a pinpoint delivery from Ozil on the corner to slot in an easy set-piece goal. As Arsenal took the lead, their confidence grew and the Gunners took the initiative to find the second goal.
The flamboyant Mesut Ozil demonstrated his composure as he slotted the home side's second goal of the night after a lovely one-two with Olivier Giroud. Arsene Wenger showered exuberant praise on his German playmaker after the match.
[Ozil has] remarkable technical quality. Something that I enjoy very much is the timing of his passes. It is never surprising. If you think in the stand he should give the ball now – it is now. By the time you have finished your thinking the ball has gone already.

He is somebody whose song is always the right tone and that is something that is very difficult to achieve in the game because on the pitch the decisions you have to make are so quick and to get that always right is not easy.

– Arsene Wenger.
Ozil, with sixteen assists this season, seems to have finally justified his potential and answered his critics. While his talent was never in doubt, the German's temperament and consistency had been called to question in past. This season, however, Ozil has single-handedly helped Arsenal progress even when the Gunners have struggled with injuries to other key players like Alexis Sanchez, Francis Coquelin and Santi Cazorla.
Petr Cech also set a new Premier League clean sheets record as the former Chelsea custodian registered his 170th clean sheet in 352 matches, helping him go past David James (169 clean sheets).
It was a memorable night for Arsenal Football Club on a holistic level, one which would get better should Leicester City fail to win tonight.