Argentina beat Venezuela narrowly in friendly match
Posted on September 4, 2011 by SoccerPunter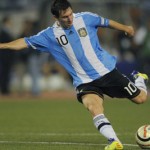 Lionel Messi marked his first game as
Argentina
captain with a 1-0 win over
Venezuela
in an
international friendly
encounter played before thousands of delirious fans in the Indian city of Kolkata on Friday.
The 24-year-old Barcelona striker enthralled the crowd at the 120,000-capacity Salt Lake Stadium with his dribbles and magical left foot, bringing the fans to their feet every time he touched the ball.
It was from a Messi corner that full-back Nicolas Otamendi headed in the game's only goal on the 67th minute.
"Messi is a great player," said Argentina coach Alejandro Sabella after what was his first match in charge of the two-time World Cup winners.
"He is extraordinary with the ball. His every move is watched closely, still he manages to pull off those amazing feats. We are lucky to have the best player in the world in our ranks."
Messi came close to scoring twice in an entertaining first-half, while Angel Di Maria failed to convert a Messi assist in the ninth minute despite having only Venezuela goalkeeper Rafael Romo to beat.
Venezuela provided more of a threat after the break, with Sergio Romero forced into action to deny Cesar Gonzalez.
That helped ease the anxiety of Sabella, who was looking to get off to a good start after replacing Sergio Batista as coach in the wake of Argentina's disappointing performance at the Copa America on home soil in July.
The 14-time Copa winners were knocked out on penalties in the quarter-finals by Uruguay, triggering a wave of criticism from home fans desperate to see their team break an 18-year title drought.
Friday's game marked a new start for Argentina as they seek to rebuild ahead of the 2014 World Cup, and if they ever needed any extra motivation for winning this game it came from the fans who waved Argentina flags and brought the house down with their constant cheering of Messi's men.
Less fancied Venezuela were fresh from reaching the semi-finals of the Copa America for the first time but they failed to capitalise on the chances that came their way.
"We had several chances to score but we were a little unlucky," said Venezuela coach Cesar Farias. "But we proved that we can be competitive in a close match.
"Some of our key players like Juan Arango were missing. We are using the friendlies to try out new players. We are happy that we were able to control the game and have an even match.
"We have some important matches ahead including one against Argentina during the South American qualifiers for the World Cup 2014. We hope to give a good account of ourselves in qualification which is very important for us."
Venezuela are the only South American nation to have never made it to the World Cup.
Argentina, hoping to build up a loyal following across southern Asia, now head to the Bangladeshi capital Dhaka for another friendly match, against Nigeria, on September 6.