AC Milan top Serie A after win against Genoa
Posted on December 3, 2011 by SoccerPunter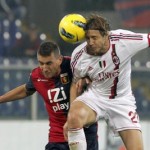 AC Milan went top of Serie A for the first time this season after a 2-0 victory against 10-man Genoa on Friday night.
Udinese or previous leaders Juventus could yet overtake the Italian champions but it was still an ominous sign from the rossoneri to their rivals.
They now have seven wins and a draw in their last eight Italy Serie A matches. Zlatan Ibrahimovic scored from the penalty spot after former Milan player Kakha Kaladze had been sent off for giving away the spot-kick, bringing down the Swede and earning a second yellow card.
Antonio Nocerino scored the killer second after being teed up by Kevin-Prince Boateng.
Ibrahimovic, however, denied this victory was a sign to their title rivals.
"In the first half we had three chances that we could have scored from and that would have opened up the game," he said.
"In the second half things went better, we scored two goals and we're playing very well.
"It's a signal for ourselves because we're playing well, we've got a lot of confidence, also away from home.
"We're getting a lot of possession and scoring goals. The others are doing what they're doing and we're doing what we're doing."
There was trouble outside the ground as Genoa and Milan fans clashed, with police firing tear gas to disperse the warring parties.
That move forced the referee to suspend the match for 10 minutes just past the quarter-hour mark as gas seeped into the ground, causing breathing problems for players and fans.
The first half was a tame affair, although Nocerino was twice played in behind the Genoa defence.
His first chance was thwarted by a vital last-ditch tackle from Genoa captain Marco Rossi, while goalkeeper Sebastien Frey was out swiftly to block Nocerino's second opportunity.
Ibrahimovic presented Massimo Ambrosini with a clear shooting chance but the Milan captain somehow fell over as he tried to pull the trigger.
The hosts' best chance came when a suicidal pass from Milan's Brazil centre-back Thiago Silva across the box was cut out by Giandomenico Mesto, but he screwed his shot from an angle just past the far post.
Kaladze began the second half by picking up a booking for going through the back of Boateng and just minutes later he was late in on Ibrahimovic.
The referee showed a second yellow card and Ibrahimovic was ruthless from the spot on 56 minutes.
Robinho should have killed the game on the hour mark but incredibly blazed a shot over the bar from barely two yards out in an exact replica of a chance he missed against Barcelona last week.
The miss was so bad that Alberto Aquilani, who teed him up, flopped to the ground with his head in his hands.
But Ibrahimovic showed sympathy over his strike partner's travails.
"Robinho's a great guy, he's a nice person, he's got a big heart but these things happen," Ibrahimovic told SkySport with a smile.
"It's normal. It also happens to me, but right now my shots are going in and his aren't."
Nocerino showed the Brazilian how it was done by making no such mistake from Boateng's pass 11 minutes from time.