Abramovich back Villas-Boas to lead Chelsea to glory
Posted on November 26, 2011 by SoccerPunter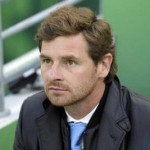 Chelsea coach Andre Villas-Boas revealed on Friday that he has held talks with owner Roman Abramovich, as he bids to turn around a spell of worrying form that threatens to derail the Blues' season.
Chelsea have lost four of their last seven games in all competition and are experiencing their worst start to a Premier League season since Abramovich bought the club eight years ago.
The 2010 English Premiership champions have slipped out of the top four and face a battle to qualify for the last 16 in the Champions League after a last-gasp 2-1 defeat at Bayer Leverkusen in mid-week. The succession of setbacks has prompted speculation that Villas-Boas could be ushered through the Stamford Bridge exit, amid rumours of player unrest at tactical changes enacted by the 34-year-old former Porto coach.
However, at a press conference on Friday, Villas-Boas said he had spoken to Abramovich since Wednesday's loss in Leverkusen and been given the full support of his employer.
Asked if Abramovich had promised to give him time to turn things around, he said: "Yes."
The Portuguese refused to go into more detail about their conversation but added: "Everybody wants to get out of a situation like this."
Currently fifth in the Premier League table, 12 points below leaders Manchester City, Chelsea host Wolverhampton Wanderers on Saturday.
Villas-Boas sought to downplay media reports of angry exchanges between players and staff in training on Thursday.
"Not critical meetings, no animosity, not insults here and there, no critique whatsoever regarding what we are doing, no doubts whatsoever regarding what we are doing," he said.
"Self-confidence and self-belief is what we need now and everybody wants to get it. That thing only comes with wins."
He added: "The philosophy will be the last thing to die at this club. It's a thing that makes technical staff and players very, very proud."
Villas-Boas also brushed off suggestions that Abramovich may turn to experienced Dutch coach Guus Hiddink to work alongside him.
"I don't agree with that," he said.
"I don't solve problems on my own. I solve them with my group of people and my group of players.
"I'm not a religious person, so I just hold on to my self-belief and the belief in my players' talents."
Asked about the reasons for Chelsea's poor form, Villas-Boas said: "When you are hyped up emotionally and when you have more confidence, things go better for you.
"A negative streak of results can be explained by emotional states and it could be just that.
"So we need to find the right emotional stimulus, plus the right balance in terms of what we do to get the results that we want.
"It could be just around the corner."
He added: "Every game gives you an opportunity to get back on track and that's exactly our focus.
"The spotlight is something I that I don't think is disturbing to me. It doesn't disturb me whatsoever.
"It's not about me as an individual, it's about my group of players and this football club."