Villas-Boas has no secret weapon to bring Chelsea success
Posted on July 27, 2011 by SoccerPunter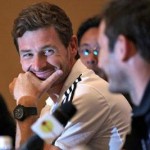 Chelsea
manager Andre Villas-Boas said on Tuesday he has no "secret formula" for bringing the
English Premier League
title back to the London club beyond relying on the talent of his squad.
"It's not a question of me bringing strategies," Villas-Boas said on Tuesday. "There are no magicians in this game."
His comments came after captain John Terry spoke of the pain of watching Manchester United lift the English Premier League trophy last season.
"Not winning makes you very hungry," Terry said. "We have seen other teams lift it. It definitely burns inside, it hurts, and that's what drives you on."
The pair were speaking in Hong Kong on the third leg of Chelsea's Asian pre-season tour. Chelsea play local champions Kitchee in the Barclays Asia Trophy on Wednesday.
Villas-Boas, 33, who worked at Chelsea under Jose Mourinho, as well as at Porto and Inter Milan, said he has spent the trip getting to know the squad since completing his 13.3 million pounds transfer to Chelsea from Porto last month.
"No one brings secret formulas to this game," he said. "The players we have are successful because they were successful before, and they want to be successful again."
The new manager said he has some tough decisions to make, with five central defenders and three left backs vying for playing time in the squad.
With Didier Drogba, Fernando Torres, Nicolas Anelka and Daniel Sturridge all fighting for what is typically a single striker position in the club's favoured 4-3-3 formation, it is also crowded up front.
"We are trying to get on board as much information as possible," Villas-Boas said. "It doesn't mean these players are under assessment. They are not.
They are successful on their own."
But he did not rule out entering the transfer market before the season starts.
"On that front we are pretty happy. In August we will take decisions for the first day of the season."
Villas-Boas is aware of the expectations owner Roman Abramovich, with the achievements of Mourinho's tenure, which brought back-to-back English Premier League titles in 2005 and 2006, setting the bar.
"It's pretty straight-forward what you have to achieve, isn't it, in terms of trophies," he said. "You have to challenge for the Premier League, and a continued process for other trophies. I do not see why this cannot happen."
With Chelsea losing in the Champion's League final in 2008 and the semi-finals in 2009, "you can see a pattern," Villas-Boas said.
Winning the Champion's League "is one more step. Are we able to do that in the three years I have a contract? I don't know."