Russia, Slovakia Qualify For EURO 2016, England Beats Lithuania
Posted on October 13, 2015 by Sreya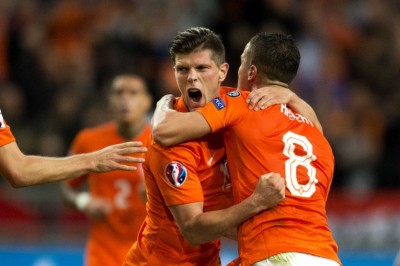 Russia and Slovakia have qualified for UEFA EURO 2016, as the qualification round enters the business phase with the last set of games to be played on Tuesday, October 13th. England have won all of their ten games, making it a clean sweep in the qualifiers. Their upcoming friendlies against Spain and France in November during the next international break will provide Roy Hodgson an opportunity to see where the Three Lions stand against other strong European sides.
Among all the groups, the possible results in Group A are the most intriguing, with both Netherlands and Turkey still fighting for the third-place finish. Iceland and Czech Republic have already qualified from Group A and Turkey need only a draw to guarantee third position, which will in turn cause Netherlands to miss the EURO finals for the first time since 1984. The Oranje are two points behind the Turks and have an inferior head-to-head record against Turkey.
Belgium and Wales have qualified from Group B with Israel and Cyprus fighting Bosnia and Herzegovina for the third-place finish. The Dragons must win at Cyprus to qualify for the play-offs, as any other result will knock them out should Israel win their tie. Cyprus need a win and Israel to lose to qualify for the play-off.
Spain and Slovakia have qualified from Group C and Ukraine will be in the play-offs as their loss at Spain ensured they would not be the highest ranked third-place finish among the groups.
Germany stuttered to a 2-1 win against Georgia on Sunday and Poland's win against Republic of Ireland helped qualify the two victorious sides from Group D. Martin O Neil's Republic of Ireland will contest the play-offs however.
England qualified from Group E with a perfect record, nine points ahead of the second-places Switzerland whose win against Estonia helped Slovenia finish third, having won against San Marino.
Group F has seen Northern Ireland and Romania qualify for the Euro 2016, with Northern Ireland's qualification particularly pleasing neutrals across the globe. Hungary lost to bottom-placed Greece 4-3 in their last match, but are likely to avoid play-offs and directly qualify by being the best third-placed team in the competition.
Austria and Russia have qualified from Group G, the former finishing eight points in top, in spite of the latter defeating Moltova. Sweden are the third-placed side.
Italy have already qualified for next year's competition with Norway and Croatia battling for the final spot from Group H. Norway must win at Rome against Italy or else they will have to contend with a play-off berth only as Croatia have an easy fixture against Malta.
Portugal and Albania have qualified from Group I, with Denmark finishing third for the play-offs. Nations belonging to Groups A, B and H play on Tuesday with the others having already played their allotted matches.