Real Madrid appeal Mourinho three-match ban by UEFA
Posted on June 12, 2011 by SoccerPunter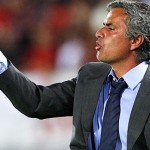 Real Madrid on Friday launched an appeal against the three-match ban handed to coach Jose Mourinho for his comments after the first leg of Real's
Champions League
semi-final defeat by Barcelona.
"Real Madrid CF have appealed against the disciplinary verdict handed down to Real Madrid CF coach Jose Mourinho by the UEFA Control and Disciplinary Body on 6 May, and relating to the UEFA Champions League semi-final first leg between Real Madrid CF and FC Barcelona in Madrid on 27 April," read a statement on the UEFA website.
"The appeal follows the sending by UEFA of the reasoned decision on 6 June. The date of the hearing will be communicated in due course."
Mourinho has already completed one match of his ban, having watched the second leg of the Barcelona tie in a hotel room.
He was also ordered to pay a 50,000-euro (72,000 dollars) fine by UEFA.
European football's governing body gave a three-match European ban to Mourinho, with one match suspended, after he made allegations of favouritism towards Barcelona.
Barca won the first leg 2-0 at Real's Santiago Bernabeu stadium before a 1-1 draw in the return leg took them into the final, where they beat Manchester United.
UEFA's Control and Disciplinary Body found that a string of comments from Mourinho alleging that Barcelona benefited from decisions in their favour at their rivals' expense had constituted "inappropriate statements".
Mourinho unleashed a tirade against Barca after seeing Portuguese defender Pepe sent off during his team's first-leg defeat on April 27.
"I don't know if it's the Unicef (Barca's sponsor) publicity or the friendship of (Spanish football federation chief Angel) Villar at UEFA, where he is vice-president," Mourinho said.
"I don't know if it's because they are so nice, but they have got great power. The rest of us have no chance.
"They are a great team, so congratulations to them, but they have this power. Pepe sent off and me too. I don't know why."
He also directed barbs at Barca counterpart Pep Guardiola, saying: "I would be embarrassed to win the Champions League like this."