Ranieri: Football in Italy is hell
Posted on February 27, 2011 by SoccerPunter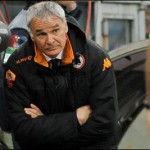 Former Roma boss Claudio Ranieri has launched a stinging attack on football in his homeland and his ex players.
Ranieri described Italian football as hell and suggested some of his Roma players refused to give their all for him.
The 59-year-old has also coached in England and Spain during his career but his 18-month stay at his home town club has left him bitter.
"In football there is heaven and hell. You can decide where you want to stand between the two but compared to England, it's hell here," he told Rai TV.
"I still want to coach. England fascinates me but I also like the Italian league.
"This year at Roma I became the only scapegoat but now there's them, the players, who must show everything."
Ranieri made no effort to hide his annoyance at the behaviour of certain players in the Roma squad, which many will assume to be a particular dig at club captain Francesco Totti, who was often on the bench.
"This year too many people let their personal interests get in the way of those of the team," he added.
"When we spoke in the changing rooms everyone was agreed that we needed to rotate the team but then on the pitch when certain players were substituted …
"Even now that I'm longer there, someone will have to sit on the bench."
Totti stormed off down the tunnel earlier this season having been substituted in one game, not staying to see how things turned out.
"There are players who give 110 percent for one coach but then don't gel with another," said the coach labelled the Tinkerman by the British press during his time at Chelsea.
"Of course I believe that a good coach needs to make the most of each of his players' characteristics.
"But when I was a player I tried hard to understand what my coach wanted.
"I wasn't a great player but my motto was 'never give up'. That's like the English spirit, the players are lions and you have to hold them back.
"Here, this year with Roma I was disappointed that not every player had this spirit."