Manchester United extend Hernandez's contract by five years
Posted on October 14, 2011 by SoccerPunter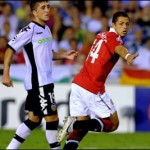 Manchester United striker Javier Hernandez has agreed a new five-year contract with the English Premier League champions, the player's agent was quoted by several newspapers as saying here Thursday.
The Mexican international has been rewarded with a long-term deal at the Premier League giants after a dazzling first season at the club which saw him finish with 20 goals in all competitions.
"We have renegotiated Javier's contract and he is now committed for five years with Manchester United," agent Eduardo Hernandez told The Guardian.
"The initial contract was good for Manchester and for Javier because it enabled them both to see if they could fit together and if he could achieve what was expected of him. Both sides have met their expectations and United were happy to reward Javier after his very good performances last season. "I will not talk about numbers, but it is a five-year contract. It is a fixed salary with incentives based on the team's success in each of the different tournaments.
Eduardo Hernandez also dismissed recent speculation linking the player with Spanish giants Real Madrid.
"It was never likely that Javier would leave," he said.
"Talks began some time ago and United came up with a very good offer and I have nothing but praise for the way they have recognised Javier's performances."
Hernandez's follows recent moves by United to tie their prize assets to new contracts. Midfielder Tom Cleverley agreed a new deal earlier this week, while striker Danny Welbeck has also been offered a new contract.
Wayne Rooney, Rafael Da Silva, Ryan Giggs, Anderson, Antonio Valencia, Chris Smalling, Park Ji-Sung, Michael Owen, Patrice Evra, Michael Carrick and Darren Fletcher have all signed new deals in the past 12 months.