Make or Break for Real Madrid in Champions League
Posted on May 3, 2011 by SoccerPunter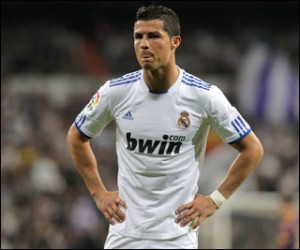 Barcelona coach Pep Guardiola says his team's weekend defeat by Real Sociedad was a timely warning ahead of Tuesday's second leg of their Champions League semi-final with Real Madrid, who they lead 2-0.
Last week they came out on top in a stormy first leg in Madrid that was characterised more by cynical challenges and play-acting than on-pitch excitement.
Billed as a contest between the free-flowing football of Barca and the more direct approach of Real, it turned into a stop-start affair.
Pepe, deployed as a defensive midfielder by coach Jose Mourinho, was controversially dismissed after Barcelona full-back Dani Alves over-reacted to a challenge by the Portuguese international.
View Head to Head for Barcelona vs Real Madrid.
Barcelona's substitute goalkeeper Jose Pinto had earlier been given a red card for his part in a scuffle at half-time and Mourinho himself was sent to the stands after venting his fury at the referee.
It was an ugly encounter, with both coaches playing their part in the unsavoury spectacle.
In the pre-match press conference Guardiola lost his cool, saying that Mourinho had won the battle of words but that he was ready to meet Real on the pitch.
After the match at the Bernabeu, an aggrieved Mourinho suggested that European governing body UEFA favoured Barca and even suggested that it was due to their promotion of the humanitarian charity Unicef.
The game's saving grace was the performance of Lionel Messi, who scored a double, the second being an excellent run where he slalomed through the heart of the Real defence before slotting past keeper Iker Casillas.
Barca are now in the driving seat to win a league and Champions League double, with an eight-point lead in La Liga after both they and Real surprisingly lost at the weekend.
"This was a lesson for us showing that nothing has been done yet," said Guardiola after the 2-1 defeat at Sociedad.
"Madrid are a very good team and they have nothing to lose so we have to keep our heads. We are going to have some tough moments in the game and we will need the support of our fans."
Barca went into their match in relaxed mood, with Real having already lost 3-2 at home to a Real Zaragoza side fighting for their top-flight survival.
Guardiola introduced several youngsters and it was 20-year-old Thiago Alcantara who gave them the lead but Sociedad pulled level and then Javier Mascherano conceded a late penalty, from which Sociedad scored the winner.
"It was a difficult match with a number of changes to the team and so I think we did relatively well but in the second half we were not controlled enough in our play," said Guardiola.
The Real players, still angered by the first-leg dismissal of Pepe, say they will go to Camp Nou full of belief despite needing to win by two clear goals to turn the tie around.
"We feel that we can do it and also in the (domestic) league. Until it is mathematically impossible we are not going to give anything up, although we cannot afford to make mistakes like we did against Zaragoza," said Kaka.
Team-mate Gonzalo Higuain added: "After a defeat no-one is happy but we now have to forget this and look forward.
"The league is almost over but we need to concentrate on the Champions League and we have a side which can reach the final."
Real will be without the suspended Sergio Ramos and Pepe, while German central midfield Sami Khedira is injured.
For Barca, attacking midfielder Andres Iniesta and centre-back Carles Puyol are fighting to be fit in time.