Klinsmann delighted to be coach of United States (USA)
Posted on August 2, 2011 by SoccerPunter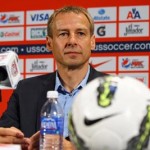 Former German international Jurgen Klinsmann made his first public appearance as coach of the United States football team on Monday, saying he is already looking forward to the 2014 World Cup qualifying.
Klinsmann, who won the 1990 World Cup and 1996 European Championship with Germany, said at a news conference that he was excited for the chance to advance the Americans globally.
"This is a big moment for me personally and I'm really proud that I get the opportunity to be a part of the future," Klinsmann said. "It's about the bigger picture. It's about moving the US team forward and it's an exciting moment."
Klinsmann was named to the post on Friday, one day after the firing of Bob Bradley. The switch was made by US Soccer Federation president Sunil Gulati following an evaluation after a US loss to Mexico in June's Gold Cup final.
"After the Gold Cup, we started to review the year and five years. The last 10 to 14 days we came to some conclusions," Gulati said. "The commitment we've made is through the World Cup."
Klinsmann was a prolific scorer at the club level for Stuttgarter Kickers, VfB Stuttgart, Inter Milan, Monaco, Tottenham Hotspur, Sampdoria and Bayern Munich and coached Germany to third place at the 2006 World Cup on home soil.
He was fired at Bayern Munich in 2009 five games before the end of the season and has since worked in sports marketing.
"This is exciting," Klinsmann said. "One of my challenges will be to find a way to define how the US represents its country and its style of play.
"You build on what was built before. Soccer in the USA has come a long way. The awareness is getting bigger and bigger. It's growing. You can't stop soccer any more in the country."
Klinsmann knows football in American well. He and his American wife moved to California after he retired from playing in 1998.
"It's important to understand your culture," Klinsmann said. "It took me years to understand the completely different setup."
Klinsmann also understands how the US team has earned respect in recent years on the worldwide stage.
"It's amazing to talk to foreign coaches about what's happened in the USA. They admire how far soccer has come," Klinsmann said. "There are lots of different challenges ahead of us. Come a long way, but a long way to go still."
Klinsmann will make his debut as the US coach on August 10 when USA play host to Mexico at Philadelphia in a international friendly against their biggest rivals.
"I know already most of the players from watching them," Klinsmann said. "I spoke to five or six players over the weekend and I will call the rest tomorrow."
Klinsmann is still considering who might serve as his assistants.
"I had a great conversation with Claudio Reyna. Spoke to Tab Ramos. But I will take my time," Klinsmann said. "There are highly qualified coaches all around the US that I don't know so I will talk to people.
"I will not come in with my own staff of assistant coaches."
Gulati is excited to add someone who commands respect through his playing achievements and who has the experience of knowing what it takes to win a World Cup, a perspective lacking in the American locker room in past campaigns.
"It's a great thing to have someone who has been there, on the winners' stand at the World Cup, at the European championships," Gulati said. "That's a unique situation.
"Jurgen was able to get comfortable very quickly and we look forward to (his contributions) over the next three years."