John Terry reinstated as England captain
Posted on March 23, 2011 by SoccerPunter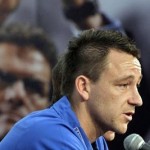 John Terry insists England's players support Fabio Capello's controversial decision to reappoint the Chelsea defender as captain of the national team.
Capello has reinstated Terry as skipper just over a year after he was stripped of the armband following allegations of an affair with the ex-girlfriend of then international team-mate Wayne Bridge.
The England coach has been criticised for the way he allowed news of his decision to leak out in the media before he told Rio Ferdinand that he would lose the captaincy to Terry.
It was also suggested that Terry's return could lead to a divided dressing room with one faction supporting the new skipper and others convinced Ferdinand has been harshly treated.
However, Terry is determined to present England as a united group and he revealed that no player had challenged his appointment when Capello officially announced the decision to the squad at training on Tuesday.
"When the manager confronted the team on the training pitch, he asked the players if they had any questions and nobody spoke. Nobody said a world to the manager, nobody said a word to me," Terry told reporters on Tuesday.
"I think as a group of players we're coming here looking forward to playing for our country and looking forward to putting on the shirt.
"I'm not going to be everybody's cup of tea, but it is the decision the manager has taken.
"My respect for the players around me and the manager has always been there."
Terry also confirmed that Manchester United defender Ferdinand had called him on Sunday to wish him well as captain and reassure him there was no problem between the pair.
"Rio called me which was a very nice touch and goes to show what a great man Rio is," Terry said.
"We had a 10-minute conversation and he wished me well. He cares about England and said the most important thing was to keep winning.
"He was naturally disappointed, but said the most important thing was to keep winning.
"I feel for Rio. Even though I've got the armband back, I can see myself we've got leaders in dressing room.
"The guys have still got a massive input in and around the dressing room."
Capello is believed to have changed his mind over the captaincy after being impressed with the way Terry managed to avoid negative off-the-field headlines in the aftermath of his removal as captain.
The Italian even interpreted Terry's bungled attempt to instil some passion into England's players with a public call to arms during their failed World Cup campaign last year as a positive sign of his leadership.
Inevitably, Terry's actions on the pitch and his life away from football will come under increased scrutiny now he is back as England captain, but he is confident he can cope with the pressure better this time.
"On a personal note I'm very delighted to get the armband back," he said.
"People can see that in me, people can see even when I did not have the armband my passion and drive was still there.
"Maybe the manager looked into that as well, that I had kept my head down and concentrated on playing well for club and country. I'm certainly older (now), but wise as well."
Terry was less contrite about the circumstances that cost him the armband before the World Cup.
He still believes Capello made the wrong decision, although he claims his commitment to the England cause never wavered.
"I met Fabio and (England general manager) Franco (Baldini) on the day and accepted the decision. That doesn't mean I agreed with it, but I looked them both in the eye and said 'you'll get nothing less from me in training and on the field'," Terry said.
"The disappointment will be there for a long time but this shows if you keep working hard and never give up hope there's always a chance."