Italy Serie A: Cassano joins AC Milan
Posted on January 4, 2011 by SoccerPunter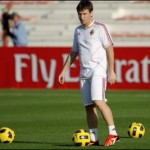 Controversial Italian forward Antonio Cassano's transfer from Sampdoria to AC Milan was officialised on Monday.
The 28-year-old had already joined his new team-mates at their winter training camp in Dubai on December 27.
His move came following a falling out with Samp president Riccardo Garrone in October after Cassano allegedly gravely insulted the club chief.
He was frozen out of the first team picture as Samp moved to have his contract terminated but an arbitration body ruled against the club in December while deeming that the player's salary should be halved.
Milan were quick to move in and although there was an initial stumbling block relating to a five million euro payment still owed by Samp to Cassano's previous club Real Madrid, the two Italian clubs and the forward soon found a resolution to the problem, each contributing to the financial settlement.
Cassano's arrival is believed to have paved the way for former twice world player of the year Ronaldinho to leave the club.
The Brazilian has already left the winter camp and returned to his homeland where he is negotiating a move to a local team.
Cassano, one of Italy's two enfants terribles – the other being Manchester City's Mario Balotelli – has been welcomed by his new team-mates.
"We're expecting a lot from him, he's a bonus to the team," said AC Milan defender Massimo Oddo when the striker arrived in Dubai.
"We hope that everything will go well. Milan offers a favourable environment because they give you everything but they demand respect. We'll also be keeping an eye on him."
The former Roma star has attracted controversy throughout his career for on-pitch tantrums and disputes off it with coaches, presidents and team-mates.