Drogba and Torres will start for Chelsea against Tottenham
Posted on April 30, 2011 by SoccerPunter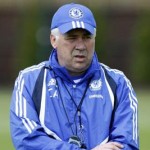 Carlo Ancelotti is ready to revive his plans to pair Didier Drogba and Fernando Torres in a bid to maintain Chelsea's bid to push the title race into the final day.
The Blues manager had abandoned his efforts to link 50 million pound record signing Torres with Drogba after Chelsea were eliminated from the Champions league by Manchester United.
But after Torres finally broke his 732-minute goal-drought for his new club after appearing as a substitute against West Ham United last weekend, he is contemplating restoring the Spaniard to his starting line-up for Saturday's battle with Tottenham.
"My philosophy and opinion is when you have very good players you have to try to put them together," said the manager. "If players have skill and ability they are able to play together.
"Maybe they have to sacrifice something of their ability and skills but they can play together and if they can do that better for the team to reach better result.
"We tried this week to play them together … will not be a surprise if they start together on Saturday."
Chelsea must beat Spurs if they are to increase the pressure on leaders Manchester United who sit six points clear with four games remaining.
Ancelotti's side travel to Old Trafford on May 8th and the manager knows that if Chelsea win the next three games, they will go into the final day at most three points off the pace.
"We want to keep the Premier League open until the last minute and have the possibility to do this," he said. "Obviously we have to beat Manchester United and Tottenham but this is our aim. Maybe Manchester United will win the title but we want to fight to the last minute."
Harry Redknapp, the Tottenham manager, knows Manchester City's four-point advantage will be hard to erase between now and the end of the season in the battle for fourth place and the Champions League slot that goes with it.
Tottenham still have to go to Eastlands, where they were victorious this time last season when the two sides were locked in a similar tussle.
But Redknapp knows that his side's 2-2 draw at home to West Bromwich Albion last weekend, coupled with City's 1-0 win at Blackburn Rovers on Monday has swung the pendulum in favour of Roberto Mancini's side.
"It's going to be difficult but we're still in there and it's still all to play for," Redknapp said. "We just have to keep going and finish as high as we can. If we finish in the top four again it would be fantastic. If not, we try again next season.
"Saturday was a blow, but everyone has them. There are no easy games. I knew West Brom would be difficult and so it proved. They are a good team in good form and we couldn't quite get over the finishing line.
"But we pick ourselves up, we've a big game at Chelsea next and we'll get ready for that. It has been a great season, we've had an unbelievable run in the Champions League, and the football we've played has been right out of the top drawer. And it's not over yet."
Sandro, Tottenham's Brazilian midfielder, was hoping to get the better of compatriots David Luiz and Ramires.
"Chelsea are a good team with lots of quality players," he said. "I have friends there but when the match is on, we'll forget about that and give everything to win. I hope it's a great match and we win."