Capello ready to drop senior players of England
Posted on September 9, 2011 by SoccerPunter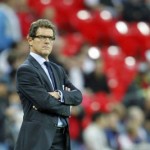 England
manager Fabio Capello is preparing a clear-out of senior players after becoming convinced that too many of his squad have been "scarred" by previous failures, reports said Thursday.
Several newspapers speculated that the axe was hovering over Frank Lampard, James Milner, Rio Ferdinand and Gareth Barry as Capello attempts to freshen up his team with next year's Euro 2012 finals in mind.
England moved to within a point of qualification for Euro 2012 on Tuesday after an unconvincing 1-0 victory over Wales at Wembley that raised fresh questions about the resilience of Capello's men.
Capello was quoted as saying in several newspapers that he had expected England would perform poorly after studying players body language during their pre-match warm-up at Wembley.
"When I go to the pitch before the game, I like to see the warm-up. During my career I have sometimes understood a lot of things because of what happened in the warm-up," Capello said.
Capello said he had attempted to gee up his players after they returned to the dressing room before kick-off but to no avail.
"I tried. I spoke with the players but it was impossible to change the things that I saw. Impossible," he said.
Asked if it was because not enough time remained to change the mood in the dressing room, Capello said the problem was mental.
"The problem was here," Capello added, pointing to his head.
Capello said he struggled to comprehend why England could not sustain a given level of performance through 90 minutes.
"Sometimes it is incredible to understand why," he said.
"I have said before, as a manager, as a player, there are times when I never understood what really happened.
"We played well for 20 minutes. Why can't we play the same (for the whole game)? I don't understand.
"The result was really good. The most important thing. But we need to speak about some things."
Although Capello did not identify players who may be at risk, several newspapers on Thursday reported that Manchester City duo Barry and Milner along with Lampard and possibly Ferdinand were most at threat.
Capello was likely to fast-track the development of Manchester United trio Phil Jones, Tom Cleverley and Danny Welbeck as he attempts to accelerate a steady overhaul which has been under way since the disastrous 2010 World Cup.
Tuesday's squad at Wembley contained only eight members of the 23-man party which travelled to South Africa two years ago, although Steven Gerrard and Glen Johnson would have been included to face Wales if fit.