Bayern Munich sack coach Louis van Gaal
Posted on April 11, 2011 by SoccerPunter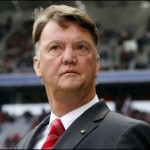 German champions Bayern Munich on Sunday sacked coach Louis van Gaal with the Bavarian giants fourth in the Bundesliga and outside the Champions League places for next season.
Bayern chairman Karl-Heinz Rummenigge said the decision comes after recent poor league results since Munich were dumped out of the Champions League in the last 16 by a home defeat to holders Inter Milan on March 15.
Munich bosses are desperate to prevent Bayern missing out on a place in European football's top domestic competition having lost last season's Champions League final.
Third in the German league would put Bayern into the play-off for a Champions League berth, while second in the table guarantees an automatic passage for next season's competition with five games left.
"It is true we have taken a short-term decision but there has been dissatisfaction – I have to make this clear – for weeks," said Rummenigge.
"We were weak at Freiburg (on March 19), but luckily we won 2-1 with a late goal.
"We played poorly against Borussia Monchegladbach (on April 2 in a 1-0 victory) and yesterday (at Nuremberg) we did not have a good game.
"This is an expression of our dissatisfaction and concern.
"At the end of the day, it is the responsibility of the club to do everything we can to get third place.
"In terms of the decision, we simply didn't have an alternative."
The 59-year-old Van Gaal was informed of the decision after his side returned to Munich following Saturday's 1-1 draw at Nuremberg which saw Bayern drop to fourth in the Bundesliga.
Bayern are 14 points behind Bundesliga leaders Borussia Dortmund.
Van Gaal's assistant Andries Jonker will take over as caretaker head coach with Hermann Gerland as his assistant.
Bayer Leverkusen's coach Jupp Heynckes has already been announced as Bayern's head coach for next season.
Van Gaal was told last month his contract, which was due to expire in 2012, would be terminated at the end of the season.
Having taken over in July 2009, he led Bayern to last season's Champions League final while Munich swept all before them in Germany winning the league and cup double.
His first press conference at Bayern came with the declaration: "…I am who I am.
"I'm self-confident, arrogant, honest, innovative, but also warm and friendly. This culture fits me like a warm coat."
He signed a contract extension last September which should have kept him in Bayern until 2012, but trouble brewed soon after.
President Uli Hoeness attacked him live on German television, accusing the Dutchman of being hard to work with and not open to criticism.
A place outside the Bundesliga's top two places is a precarious position for any Bayern coach.
Felix Magath was sacked as coach in January 2007 with his side fourth in the table, despite leading Bayern to the German league and cup double in both the previous two seasons before his dismissal.
Magath went onto win the 2009 German league title with VfL Wolfsburg.
Likewise, ex-Germany trainer Jurgen Klinsmann, who led his country to third at the 2006 World Cup, was shown the door in April 2009 after just 10 months in charge with his side third in the league.