Arsenal organise Asian tour to Malaysia and China
Posted on May 25, 2011 by SoccerPunter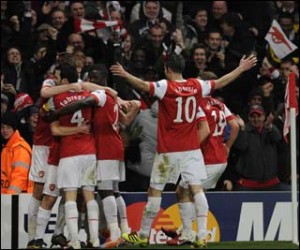 Premier League giants Arsenal announced Tuesday they will play pre-season matches in Malaysia and China in July.
The team will play two games, the first in Kuala Lumpur before moving on to China.
The Gunners will arrive in Kuala Lumpur on July 11 and play a Malaysia XI in the Bukit Jalil Stadium two days later.
They will then face Chinese Super League side Hangzhou GreenTown on July 16 in Yiwu City.
Arsenal Chief Executive Ivan Gazidis told Arsenal's official website: "Everyone at Arsenal Football Club is excited to be visiting both Malaysia and China.
"The club has a tradition of playing in Malaysia going back to the 1960s. This will be our fourth visit to Malaysia, having last visited Kuala Lumpur in 1999. We are also looking forward to returning to China, where we last played a pre-season friendly in Beijing in 1995.
"It will also be a wonderful experience for the club and our players, many of whom will be visiting Malaysia and China for the first time."
The Malaysian organisers expect fans from neighbouring Singapore, Thailand, Indonesia and Vietnam to buy tickets.
Arsenal finished fourth in the Premier League in the just-completed 2010-2011 season.
Arsene Wenger's side will also host the Emirates Cup on July 30-31 which this year features New York Red Bulls, Paris St Germain and Boca Juniors.