Soccer Tipster Profile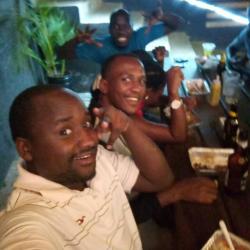 Country

UGANDA

Total Balance
🍊1,000,000.00

Winning Streak
9

Losing Streak
12

Expertise
In-Play 1X2
Freddie1 participated in the following rounds of Tipsters Competition:
Biography
I love football and being a punter makes me feel I can play the game like a computer game.
Am Ugandan and fun of Chelsea though I avoid it being on my tickets.On soccerpunter am able to have a strong heart of staking big.
Feedback for Soccer Tipster Freddie1
Latest Messages for Freddie1:
Freddie1

Mraketimus85

Yes Freddie let's make that moola
Freddie1

I have placed 100$ on under 4.5 goals on Manisaspor game..hope it grabs
soccerpunter

Good job Freddie1.
meustas

Keep it hard Freddie
aungnaing1

What a big surprise you've pulled on us. Continue with the good work you are doing my friend, and I am sure that i will start following you soon.......
Freddie1

Thanks guys.

meustas

What's wrong bro! U are losing concentration! Pliz concentrate and focus at being one of the best again
Freddie1

Thanks bro,this month i will
This discussion is part of the Soccer Forum.
Write a comment:
Character Count:
0
Write a detailed comment of at least 150 characters to earn a reward point.
✓
Charting of Tipster Profit Per Round
Freddie1's Rankings in Tipsters Competition Show-Hide
| # | Football Tipster | Win | Lose | Draw | Win % | Profit % | Pending | Outstanding | Total Balance |
| --- | --- | --- | --- | --- | --- | --- | --- | --- | --- |
| 1 | klodjaneskiu | 7 | 35 | 1 | 16.67 | 255.98% | 🍊0 | 🍊3,559,780 | 🍊3,559,780 |
| 2 | scotalonia | 1182 | 290 | 144 | 80.30 | 143.61% | 🍊190,000 | 🍊2,246,067 | 🍊2,436,067 |
| 3 | akins011 | 22 | 45 | 1 | 32.84 | 122.15% | 🍊0 | 🍊2,221,500 | 🍊2,221,500 |
| 4 | khaya | 12 | 32 | 1 | 27.27 | 101.70% | 🍊0 | 🍊2,017,000 | 🍊2,017,000 |
| 5 | silver1 | 59 | 78 | 12 | 43.07 | 94.80% | 🍊0 | 🍊1,948,044 | 🍊1,948,044 |